Sure Ways To Achieve your New Year Resolutions This Year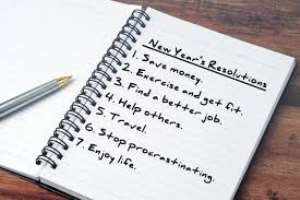 Here's what you can do to achieve your new year resolutions this year.
1. Set SMART Goals
SMART is an acronym. It is a technique for setting goals which increases your chances of achieving them. It means:
S – Specific (Be specific in your goals): Instead of saying I will save money this year, say I will save Ghc10,000 by December 31st.
M – Measurable (Your goals must be measurable:) Instead of saying "I want to lose weight" say "I want to lose 15 kilos in 90 days".
A – Action oriented. Use Action oriented words. Eg, instead of saying I will exercise, say I will walk for 20 minutes on my treadmill every day
R – Realistic. (Set realistic goals) – Eg. If you earn Ghc2000 a month. You cant say you will save Ghc1500 a month. It's not realistic
T – Time-bound (Put a deadline or timeline to your goals) – eg. say I will save Ghc10,000 by June 4th. Set a time or deadline
2. See Your Goals Constantly:
Write your goals somewhere you can see them. Visualization is a very powerful exercise and being able to visualize your goals will help you achieve them. Many coaches recommend writing your goals on a Vision Board and placing it in a place where you can see your goals every day. Anytime you set your eyes on your goal, there is that extra burst of energy which keeps you going.
3. Set a few goals at a time.
Don't burden yourself with too many goals at once. They will make you feel overwhelmed. Set a few goals at a time, strive to accomplish them, and add some more later in the year.
4. Break down your goals into smaller chunks
Your goals may look big. Very often, achieving them means that you have to break down your goals into smaller chunks. For instance, if you plan to lose 15kg within 90 days, you could decide to "Walk at least 30 minutes every day" or "Go to the gym 3 times a week". These small exercises come together to help you achieve your overall goal.
5. Be prepared to change your thinking and your habits.
If you discovered an habit which prevented you from achieving your goal, you have to consciously work at changing that habit.
6. Be accountable to someone
Support systems and accountability is great. Find a friend you can trust. Someone who understands the goals you are trying to achieve, whom you can report to and who will give you all the support you need and encourage you when you are slacking.
7. Reward yourself when you achieve certain milestones
Rewards motivate you and give you the energy to press on. When you are quarter way, or midway between your goal, celebrate it.
Final Thoughts
Resolutions are hard to follow. However, theyare not only absolutely necessary to motivate us. They are essential to keep us alive with a sense of purpose. If you follow the above steps, you will significantly increase your chances of achieving your new year resolutions.
Happy 2018!