Why Your New Year Resolutions are not Working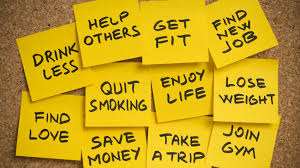 If you are reading this post, it means you made it into 2018. Congratulations and a Happy New Year to you!
There is also a good chance that like many others, you have taken time off to reflect on your 2017 and you have even written some new year resolutions for 2018.
Many people have grown sceptical about writing new year resolutions because as many will say, "they don't work"
Statistics reveal that only about 8% of people achieve their new year resolutions. 80% of people who set resolutions abandon by February, and this keeping happening every year, leading many to believe that new year resolutions just do not work!
There are many reasons why you are not able to achieve your new year resolutions. Here are 5 of them.
1. Your resolutions are too vague.
For instance, if you just say "I want to lose weight this year", that's too vague. You are bound to fail because that goal is too vague.
2. Your resolutions are not realistic.
Let's say your only source of income is your day job which earns you GHC1500 per month. Then you set a goal and say, "I want to save GHC10,000 by the end of the year, without thinking of other sources of income, then you are setting yourself up for failure.
3. Your resolutions are not time bound.
If you tell yourself, "I will buy a car this year" without setting a due date, there is no sense of urgency to actually commit to buying a car. It's like a class assignment without a deadline. There is no motivation to work on it.
4. You have too many goals.
It is easy to get caught up in setting goals and resolutions. Setting them is the easy part. Implementing them is the hard part. When you bind yourself with so many goals, you find yourself overwhelmed trying to achieve them. In the end, many of them get abandoned along the way.