Get A Flawless Skin By Preparing Turmeric Face Mask At Home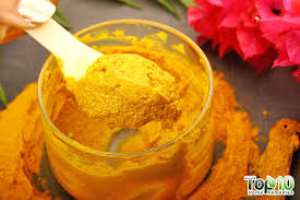 Turmeric beauty benefits
Turmeric is high in antioxidants that slow down cell damage.
It's widely used as a skin exfoliant and improves skin's texture.
It helps with inflammatory skin conditions, such as acne, dry skin, psoriasis and eczema.
It helps reduce pigmentation and even out the skin tone.
It is also said to diminish wrinkles.
Make your own turmeric face mask
1. Mix flour, turmeric, honey and milk to make a paste
2 tablespoons of flour. You can use regular flour, rice flour or ground oats if your skin is dry.
1 teaspoon turmeric
3 tablespoons milk. You can also use yogurt to fight acne.
A few drops of honey
2. Apply a thin layer to your face and let it dry for 20 minutes
3. Rinse off in the shower, scrubbing gently to remove.
4. Apply your favorite moisturizer.