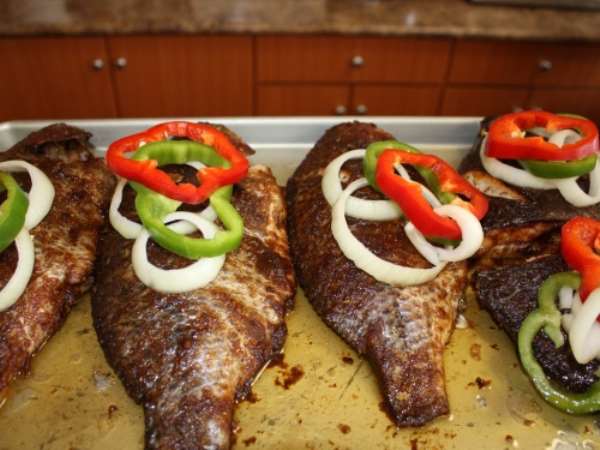 Photo - Flickr
Ghana Grilled Tilapia Recipe
For 4 medium-sized tilapia
equipment you'll need:
a grill and charcoal, obviously
a fine grater [or grinding stone ;-)]
a sharp knife
a brush for basting
a cutting board or plate
a blender, food processor,or grinding bowl (asanka)
a fish basket for turning the fish, if you have one (optional)
Ingredients you'll need:
To season 4 medium tilapia (about half a pound each, or about 2 pounds total), mix together in a bowl:
2 Tablespoons grated shallots or onion
1 Tablespoon vegetable oil, like canola (plus you will need several more Tablespoons for basting)
~a teaspoon of salt (Note: people in Ghana will often use a crushed shrimp-flavored seasoning cube as in the photo on the left, but I omit this. I use a little extra seasoning salt and spice mixtur
e (e.g., some dried ground crayfish and/or garlic, no-salt seasoning mixes).
1/2 teaspoon hot ground cayenne pepper or to taste
about 1/4 cup (4 Tablespoons) of fresh chili pepper (kpakpo shito if available), ground. To reduce hotness, use a mild chili.
~ 1/2 teaspoon peeled, grated fresh ginger
Either before you make the seasoning, or while you are preparing and seasoning the fish, light the charcoal (about 2 pounds) and allow it to burn down for about half an hour, fanning it if necessary.
To prepare the fish:
Clean and wash the fish, and descale it if necessary. Leave on the heads, but remove the gill covering and hard fins. Please note that this, like pounding fufu, is not as easy as many Ghanaian women make it look. It requires a very sharp knife, patience, and care. Even so, I often end up defacing (can you deface a fish?) the fish head and removing the gills, fin, and numerous bones while I'm preparing an already scaled and gutted fish. Not to worry. It will still taste great.
Cut 2 diagonal slits of each side of each of the fish
.
If you have "strong" hands, use them to stuff and rub the seasoning mixture all over the fish, rubbing it into the slits and also inside the fish. Otherwise, you may need to use a spoon or gloves. Do not discard the dregs left in the bowl.
Leave the marinade on the fish for at least 5 to 15 minutes (5 minutes only for a milder flavor)
Brush the grill with oil, and place it almost directly on top of the coals (about an inch above them). Baste the fish with a little oil to keep it soft and moist. After 3-5 minutes, turn over the fish and baste this side with a little oil as well.
Add a couple of tablespoons of oil into the bowl that held the seasoning mixture. Using your hands or the brush, shake the oil over the fish (don not try to brush it)
on, however) until all the seasoning mixture is used, as you continue to turn the fish every few minutes. Depending on the thickness of the fish and the heat of the fire, it should cook in about 10 to 15 minutes. Be careful not to burn the tail of the fish (a little foil on it near the end of the grilling might be in order).
Voila! Ghana-style grilled fish. Enjoy. In the interests of full disclosure, and because I think we can learn from our mistakes, let me confess that I was breaking in a new grill today and failed to properly oil it, so the skin on my tilapia stuck to the grill and burned . Also, please notice that these recipes are quite flexible, as is much Ghanaian cooking: I could only find one large tilapia, weighing about 1.5 pounds, so I substituted that for 4 small ones, so I made 3 slits in it instead of only 2. Also, it had already lost most of its tail to the butcher