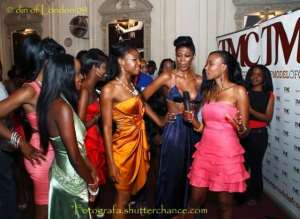 Saturday 15th August saw the final stage of selection for the Top Model of Colour competition which will see models from the UK travelling to The Gambia for a nail biting finale. Judges for the different stages of the competition, run over a course of a few weeks, have included award-wining fashion designer Samata Angel, international makeup artist Eryca Freemantle, AFUA Acheampong, the acting editor of Black Hair Magazine and top Nigerian model Ibukun Jegede.




Judges deliberating for male heats, (L-R) Samata Angel, Maame and Vicky, the female winner of TMC 2008

The finale will see the 24 female models who have made it through to the finale and 6 male models have made it through being whittled down to the final winners, the male and female Top Model of Colour whose contract with Mahogany Models will see them sent into orbit within the modelling world. Sola Oyabede, the founder of Mahogany Models, is an influential figure within the British modelling industry and has worked tirelessly to secure a place for models of colour within the modelling industry.
style="font-size:85%;">

Sola Oyebade
The judges saw scores of male and female models who could compete in the worlds of commercial or high fashion with contestants being scored on their runway walk, physique and understanding of the modelling industry. This year's competition is promising to be bigger and better than ever. 1000's of models applied for TMC 09 and it has taken the judges weeks to come up with the short list of models to make it through to the final in The Gambia.

International makeup artist Eryca Freemantle

Alongside a list of lucrative prizes the winners will also receive a modelling contract and personal representation with Mahogany Model Management. Samata Angel judged two heats of the competition and found the final heat for the male models particularly difficult. 'Judging was so very difficult and even after the finalists were announced you do think, I wish one more could have got through. There were 3 of us judging the males and it was really hard to get the list down to 6. All the guys that got through had some strong potential in modelling, whether commercially or in high fashion and really earned their spots. But for the record, to those that did not get through show, do not be disheartened because you got so far and I believe that when one door closes another one opens.

Male finalists
The Grand Finale of TMC will be taking place in The Gambia (West Africa) in association with Fabec's Promotions on Saturday 5 December. For further information visit