December 7, 2017
|
Home & Food
5 Popular Local Snacks In Ghana
Pamela Ofori-Boateng / Modern Ghana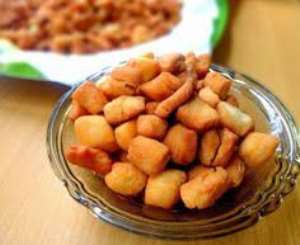 Achomo is a popular deep-fried snack made from flour, butter, eggs, salt and sugar. However, others prefer to add a twist to it by including milk or cinnamon. It is often sold on the streets and not uncommon to find in traffic.
Bamfo Bisi is a local snack with a crunchy exterior and a soft inside. It's prepared from cassava dough, vegetables, flour and some spices. It does not forego its signature- groundnut and can be served with orange juice.
Nkatie cake or groundnut cake is a popular street snack in Ghana made from very simple ingredients including groundnut and sugar. It's chewable sticky nature and the sound it makes when you sink your teeth into it makes it fun to enjoy.
Ayigbe biscuit is a hard snack which originated from the Volta Region of Ghana. It's main ingredients are cassava, starch, coconut, sugar, salt and water. Research says it is full of carbohydrates, glucose, vitamins calcium potassium and dietary which help in building the body.
Plantain chips- Everybody loves plantain chips, a crisp, crunchy, and flavorful plantain snack mainly prepared using plantain. It is arguably the most sold and sought after snacks on the streets of Accra.