Ivy Barley Set To Bring $100,000 Home. But First She Needs Your Vote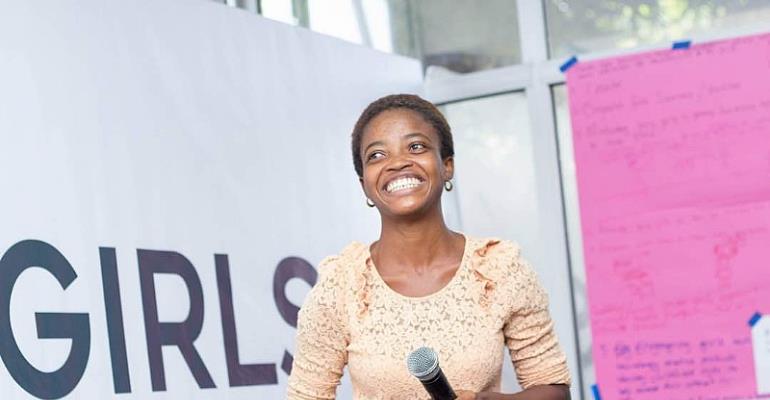 It is possible for Ivy Barley co-founded of Developers in Vogue to win $100,000 in the Kwese Inc #GoGettaz competition to enable her expand the scope of her initiative. However, it is highly dependent on your votes.
Early this year, Ivy Barley co-founded Developers in Vogue to bridge the technology gap between males and females in the tech field and shape a world where more African women will be daring enough to take on jobs in a male-dominated tech field.
In June 2017, Developers in Vogue organized their first coding bootcamp where they taught 20 girls to code in HTML, CSS and JavaScript.
Out of the 20 participants, 5 of them have so far gotten full-time jobs in tech firms, another 5 are currently working as freelancers and 6 recently won a Devless hackathon organized by the Meltwater Entrepreneurial School of Technology.
Within this short space, Ivy won the Ghana Youth Social Entrepreneurship competition held by Digital Opportunity Trust, The TEN Ghana Elevator Pitch Contest in June 2017 and the E-Skills for Girls Competition In Berlin, Germany which came with €15,000 prize and Mentorship from Google. She also had the Opportunity to meet the German Chancellor, Angela Merkel.
"Last year, I was teaching young girls computer programming at a pre-university. During my classes, I realised that the girls were actually very interested in learning technology, contrary to what I have been hearing around," Miss Barley said in an interview with modernghana.com.
"Few months after leaving the school, I always felt the urge to start a sustainable initiative that will provide a support system for women in tech," she added.
Winning the competition will go a long way to enable her scale the work and reach out to all females across the country and beyond.
The $100,000, Ivy says, will position her to increase the number of females being trained to 1000 by next year.
She adds, participants on the programme are connected with jobs so that means more jobs will be created, more income will be earned and more impact will be made.
Help her make this dream come true by voting for her.
Here is how to vote:
1. Visit https://win.kwese.com/
2. Vote for IVY's Video which is #3 by clicking on the Facebook or Twitter icon under her video to share on your wall.
3. Go back to https://win.kwese.com/
4. Share IVY's Video with each of your Facebook friends
You can do this as many times as possible. Don't forget to share the link with your friends too.