Short Story: What Goes Around Comes Around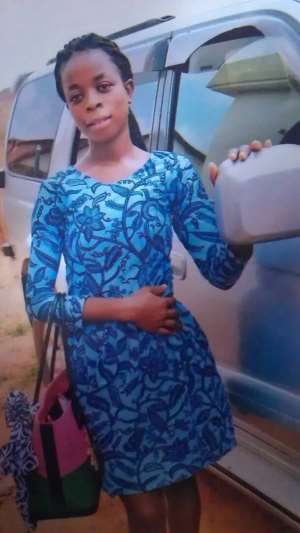 There lived a man in a fishing community called Mr Asempa. He married two wives; the first called Ruth and the second Adom. They all lived beautifully for so many years in a village called Ramah. But they both had no child ,they all prayed to God to bless them with a child.
Three months later, Ruth went to a shrine, asking for a child but Adom did not give up. Soon, Ruth got pregnant. Things have now changed. God's ways indeed, are not our ways.
Adom still had faith that God will speak one blessed day . Ruth gave birth to a beautiful girl amd named her Princeses.
Since then , Adom became a slave to them . She undertakes all the chores in the house and Ruth and the child eats all the food leaving nothing for her.They hide sometimes, the food they cook and when she ask for a piece, Ruth and the child fights her, insult and beat and tell her to leave the house because she was labelled as an evil. Adom cries out but had nothing to say. Years gone bye, Adom had not still got a child.
One blessed Sunday dawn ,Adom woke up very early to do her chores prior to going to church .She prayed before going. Upon going out, she met Ruth and the child having sat in front of the bathhouse.
They raised insults at her , beat her up and above all, called her names.
She felt very sad and asked God if she had done something to deserve that life situation. Eight months later, Adom gave birth to a bouncing baby boy and named him "Nyamenaaye" .
This boy brought joy to Adom but Ruth had bitterness in her heart . She visited a shrine and had a concoction just to kill the only baby boy of Adom .Lo and behold , the concoction turned out to kill Adom a week to Nyamenaaye's fourth birthday and that was the end of Adom's life on earth . Two months after the demise of Adom , Mr Asempa handed over Nyamenaaye to Ruth , to take care of him.That was the beginning of Nyamenaaye' plights in the hands of Ruth as the stepmother . Ruth being the stepmother to Nyamenaaye , turned out to be wicked to this small boy among which Nyamenaaye went to school devoid of food . Years passed bye as Nyamenaaye suffered in the hands of his stepmother , Ruth .
One day ,Ruth had it as a surprise after she was told her stepson , Nyamenaaye was selected the basis of scholarship by merit having emerged the best student in his class . Ruth could not believe it all because she seldom engage this boy with a great lots of house chores in that , he( Nyamenaaye ) went to school late or does not sometimes go to school.
Ruth , the stepmother planned killing Nyamenaaye . She engaged the services of deviants just to eliminate the precious life of this motherless boy . Dear readers , if God be for you , who can rise against you ...??.
Nyemenaaye wanted to go to school as his stepmother sent him to go to the market . Since he was not coming , Ruth sent her only child to go and find out why her stepson had delayed .
the boys got hold of her daughter, Princess and beat her to death. Just after the boys killed Princess and left the scene, Nyamenaaye came and saw her sister lying in a pool of blood.
He swiftly run home to inform his stepmother (Ruth) about it. Upon the stepmother seeing Nyamenaaye, she run towards him and begun crying and sought for forgiveness from the motherless boy.
She plunged into confessing to Nyamenaaye , how she managed to eliminate him upon which the mother instead, died.
She also told him how she again wanted to kill him. Nyamenaaye burst into tears with pains in his heart but forgave the stepmother . What indeed goes round comes around.
This should be a great lesson to anyone who mistreat his / her fellow being just because whatever you planned doing to that fellow being today, might in turn harm you.
And to those of us who feel mistreated, let the good Lord in heaven, fight for us because you might not know what someone is planning or might have planned doing.