November 14, 2017
|
Home & Food
Foods That Are Rarely Sold On The Streets Of Accra
Pamela Ofori-Boateng / Modern Ghana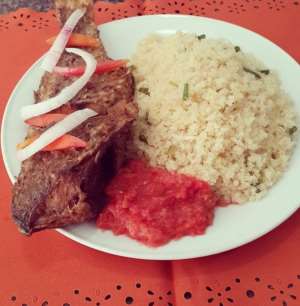 Waakye, Banku and fried rice are all local Ghanaian foods easily accessible on the streets of Accra. Each day food vendors are dotted accross every corner of the streets selling their food to the public.
However, there are some local dishes which are not readily available on the streets of Accra although people love to enjoy it.
Below are lists of food that is unpopular on the streets of Accra
Akple
Akple is a Ghanaian meal mostly enjoyed by the people from the Ewe tribe and is whitish in colour. It is usually made into balls and ingredients used in preparation are corn flour, cassava dough, salt and water.
Fante Fante
Fante Fante is an indegenous meal eaten by people from the Fante tribe in Ghana. It is a sauce made from fresh fish and palm oil usually eaten with etsew or fante kenkey.
Acheke
Acheke is a West African meal popular in Ivory Coast & Senegal and also eaten in Ghana. It is a tasty and prepared from shredded cassava. It is usually served with with gravy and grilled fish or fish stew.