Electoral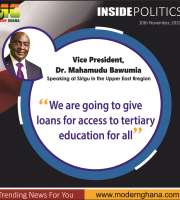 Relevant Links
Media Links
Ghana Election 2020
Electoral System
One of the fundamental principles underlying the Ghanaian political system is universal adult suffrage and this means that, every adult citizen has the right to participate either personally or through an elected representative in the making of the decisions that affect his/her life. Consequently the 1992 constitution provided for the creation of an Electoral Commission which shall have the responsibility of;
♦ Creating the constituencies and electoral areas, which form the basis for electing the peoples representatives.
♦ The compilation of the voters' register, which will facilitate the holding of public elections.
♦ The conduct and supervision of all public elections and referenda.
THE BASIC FEATURES OF THE GHANAIAN ELECTORAL SYSTEM
The following are the basic characteristics of the Ghanaian electoral system:
o Universal Adult suffrage
o Periodic Registration of voters
o Periodic General elections
o Voluntary Participation in Registration and Voting
o Equal representation
o Secret ballot
o Rule of Law
o Political Parties as corporate bodies
o Partisan politics at national level only
o One man one vote
o First–Past the- Post at parliamentary level and Absolute Majority at Presidential level
o Presidential and Parliamentary elections held on the same day
o Run-off after a tie
o Where you register is where you vote
o Use of Identity card issued by the Electoral Commission to establish voter's identity and to prevent impersonation.
o Use of indelible ink to prevent mutiple voting.
o National and local level elections alternating at two year intervals
o No minimum voter turnout required at public elections
o A permanent Electoral Commission responsible for handling all matters relating to the conduct of all public elections including referenda
It is hoped that the collaboration between the Commission with its partners in development will grow from strength to strength.