The 31st African Cup of Nations 2017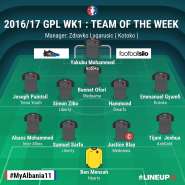 The 2016/17 Ghana Premier League kicked off at the various league centers across the country last weekend but for two matches due to Wa All Stars and Bechem United's CAF inter-club competitions. [B ...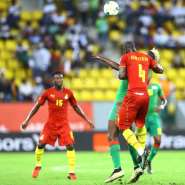 Communications director of the Ghana Football Association, Sannie Daara, has attributed Ghana's failure to clinch the AFCON title down to ill luck. The Black Stars qualified for their sixth s ...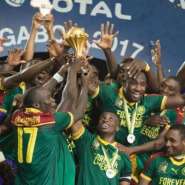 Sport has a habit of forcing you into compromises. When Vincent Aboubakar volleyed in the most dramatic of tournament winners, doing it in the most raw and visceral of football atmospheres at Stade de ...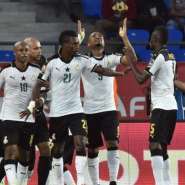 I have always wondered why money is always an issue when it comes to the national team, the Black Stars. The players became infamous over happenings in Brazil during the 2014 World Cup. I remember the ...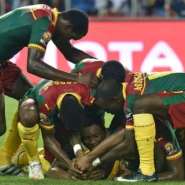 Cameroon have won their fifth African Cup of Nations title after a 2-1 win over Egypt on Sunday. Mohammed Elneny put Egypt ahead in the first half with a great strike. [PHOTO]http://cdn.moderngh ...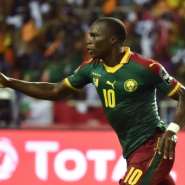 Libreville (AFP) - Vincent Aboubakar came off the bench to score a stunning winner with two minutes left as Cameroon fought back from behind to beat Egypt 2-1 in a thrilling Africa Cup of Nations fina ...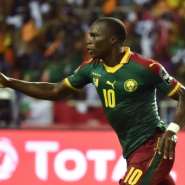 Libreville (AFP) - Vincent Aboubakar scored the winner as Cameroon came from behind to beat Egypt 2-1 in the Africa Cup of Nations final on Sunday. Aboubakar's brilliant finish with two minutes lef ...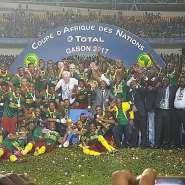 A brilliantly taken 88th minute stunner by Vincent Abubakar won Cameroon their fifth Afcon trophy ending their 15 years wait. Egypt looked set for their eighth trophy after Mohammed Elneny p ...
Cameroon ended a 15-year wait to win the Africa Cup of Nations for the fifth time, a fantastic late individual goal from Vincent Aboubakar sealing victory as the Indomitable Lions came from a goal beh ...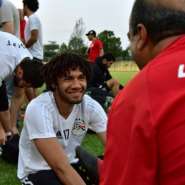 Libreville (AFP) - Traditional continental giants who had fallen on hard times, Egypt and Cameroon are looking to cap remarkable revivals when they meet in the Africa Cup of Nations final on Sunday. ...
Group A
| Country | P | W | D | L | GF | GD | PTS |
| --- | --- | --- | --- | --- | --- | --- | --- |
| BFA | 3 | 1 | 2 | 0 | 4 | 2 | 5 |
| CMR | 3 | 1 | 2 | 0 | 3 | 1 | 5 |
| GAB | 3 | 0 | 3 | 0 | 2 | 0 | 3 |
| GNB | 3 | 0 | 1 | 2 | 2 | -3 | 1 |
Group B
| Country | P | W | D | L | GF | GD | PTS |
| --- | --- | --- | --- | --- | --- | --- | --- |
| SEN | 3 | 2 | 1 | 0 | 6 | 4 | 7 |
| TUN | 3 | 2 | 0 | 1 | 6 | 1 | 6 |
| DZA | 3 | 0 | 2 | 1 | 5 | -1 | 2 |
| ZMB | 3 | 0 | 1 | 2 | 4 | -4 | 1 |
Group C
| Country | P | W | D | L | GF | GD | PTS |
| --- | --- | --- | --- | --- | --- | --- | --- |
| COD | 3 | 2 | 1 | 0 | 6 | 3 | 7 |
| MAR | 3 | 2 | 0 | 1 | 4 | 2 | 6 |
| CIV | 3 | 0 | 2 | 1 | 2 | -1 | 2 |
| TGO | 3 | 0 | 1 | 2 | 2 | -4 | 1 |
Group D
| Country | P | W | D | L | GF | GD | PTS |
| --- | --- | --- | --- | --- | --- | --- | --- |
| EGY | 3 | 2 | 1 | 0 | 2 | 2 | 7 |
| GHA | 3 | 2 | 0 | 1 | 2 | 1 | 6 |
| MLI | 3 | 0 | 2 | 1 | 1 | -1 | 2 |
| UGA | 3 | 0 | 1 | 2 | 1 | -2 | 1 |
Quarter finals (Knockout Matches)
| | | | |
| --- | --- | --- | --- |
| 1/28/2017 | BFA | 2-0 | TUN |
| 1/28/2017 | SEN | 0-0 | CMR |
| 1/29/2017 | COD | 1-2 | GHA |
| 1/29/2017 | EGY | 1-1 | MAR |
Semi-finals (Knockout Matches)
| | | | |
| --- | --- | --- | --- |
| 2/1/2017 | BFA | 1-1 | EGY |
| 2/2/2017 | CMR | 2-0 | GHA |
Third place (Knockout Matches)
| | | | |
| --- | --- | --- | --- |
| 2/4/2017 | BFA | 1-0 | GHA |
Final (Knockout Matches)
| | | | |
| --- | --- | --- | --- |
| 2/5/2017 | EGY | 1-2 | CMR |