The 26th African Cup of Nations 2008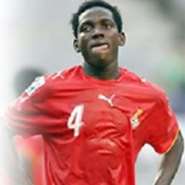 Almost all the foreign components of the national under-20 team, the Black Satellites, have arrived in the country to begin preparations for the African Championship in Rwanda next January. The bu ...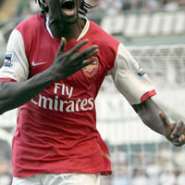 Senegal will play host to its first Confederation of African Football (CAF) Awards on January 23, according to the African football ruling body. The annual awards have already been stage ...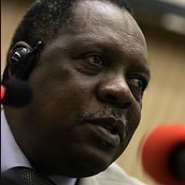 Cameroonian Issa Hayatou will be re-elected president of the African Football Confederation (Caf) next year, after standing unopposed. No other nominations were received for Hayatou's po ...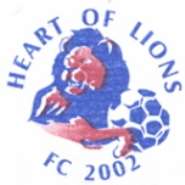 LIONS WANT TO ROAR Caf Champions League campaigners, Heart of Lions, have submitted a list of 25 players to the continental football body ahead of next year's preliminary qualifying round.   T ...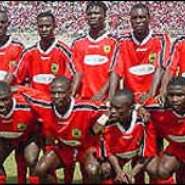 KOTOKO READY FOR AFRICA Asante Kotoko have named striker Louis Agyemang in the 28-man squad submitted to Caf for the Champions League qualifiers in the New Year despite failing to train with the club. ...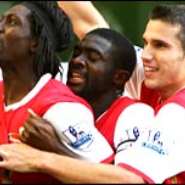 Adebayor has excelled this season Barcelona striker Samuel Eto'o believes Arsenal star Emmanuel Adebayor should win this year's Africa Player of the Year award. The Cameroon international is vying ...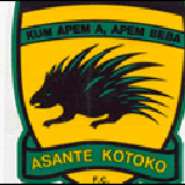 KOTOKO PAY FOR FANS ACTIONS Asante Kotoko have been slapped with a two-match home ban and a US$ 15,000 fine by Caf  after troubles marred their Confederation Cup match against Tunisian side Etoile du ...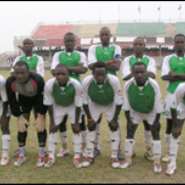 FAISAL ARE SEEKING FA INTERFERENCE The founder of Ghanaian Premier League side, King Faisal, Alhaji Gruzah, is demanding US$ 18,000 from Caf for qualifying to the money zone of the 2005 Confederation ...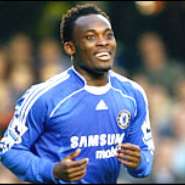 Essien is vying for the top award For the first time the Confederation of African football (CAF) will hand out cash prizes to the winners of the continental body's annual awards.  The move is part ...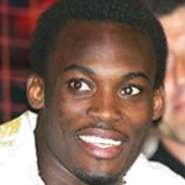 The Confederation of African football (CAF) is expected to roll out a financial package for prospective winners at this year's Glo-CAF Awards event. The package, the first ever in the history ...
Group A
| Country | P | W | D | L | GF | GD | PTS |
| --- | --- | --- | --- | --- | --- | --- | --- |
| GHA | 3 | 3 | 0 | 0 | 5 | 4 | 9 |
| GIN | 3 | 1 | 1 | 1 | 5 | 0 | 4 |
| MAR | 3 | 1 | 0 | 2 | 7 | 1 | 3 |
| NAM | 3 | 0 | 1 | 2 | 2 | -5 | 1 |
Group B
| Country | P | W | D | L | GF | GD | PTS |
| --- | --- | --- | --- | --- | --- | --- | --- |
| CIV | 3 | 3 | 0 | 0 | 8 | 7 | 9 |
| NGA | 3 | 1 | 1 | 1 | 2 | 1 | 4 |
| MLI | 3 | 1 | 1 | 1 | 1 | -2 | 4 |
| BEN | 3 | 0 | 0 | 3 | 1 | -6 | 0 |
Group C
| Country | P | W | D | L | GF | GD | PTS |
| --- | --- | --- | --- | --- | --- | --- | --- |
| EGY | 3 | 2 | 1 | 0 | 8 | 5 | 7 |
| CMR | 3 | 2 | 0 | 1 | 9 | 4 | 6 |
| ZMB | 3 | 1 | 1 | 1 | 5 | -1 | 4 |
| SDN | 3 | 0 | 0 | 3 | 0 | -8 | 0 |
Group D
| Country | P | W | D | L | GF | GD | PTS |
| --- | --- | --- | --- | --- | --- | --- | --- |
| TUN | 3 | 1 | 2 | 0 | 5 | 2 | 5 |
| AGO | 3 | 1 | 2 | 0 | 4 | 2 | 5 |
| SEN | 3 | 0 | 2 | 1 | 4 | -2 | 2 |
| ZAF | 3 | 0 | 2 | 1 | 3 | -2 | 2 |
Quarter finals (Knockout Matches)
| | | | |
| --- | --- | --- | --- |
| 2/3/2008 | GHA | 2-1 | NGA |
| 2/3/2008 | CIV | 5-0 | GIN |
| 2/4/2008 | EGY | 2-1 | AGO |
| 2/4/2008 | CMR | 3-2 | TUN |
Semi-finals (Knockout Matches)
| | | | |
| --- | --- | --- | --- |
| 2/7/2008 | GHA | 0-1 | CMR |
| 2/7/2008 | CIV | 1-4 | EGY |
Third place (Knockout Matches)
| | | | |
| --- | --- | --- | --- |
| 2/9/2008 | GHA | 4-2 | CIV |
Final (Knockout Matches)
| | | | |
| --- | --- | --- | --- |
| 2/10/2008 | EGY | 1-0 | CMR |