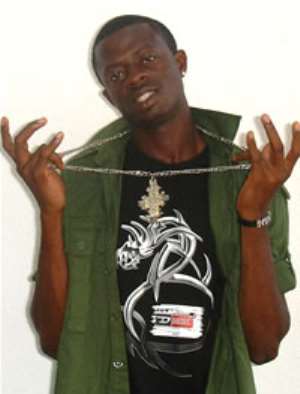 Hiplife sensation, Old Soldja
The hiplife sensation, Old Sodja's album 'Tyme' has propelled him onto a high pedestal.
His efforts have not been in vain, as the album captured the very best of his talent and native singing prowess, not to mention the interest of many listeners who have fallen in love with his song 'Ade Dede' hit song.
Old Sodja and Bomofuor, another sizzling singer, together with others have been invited to participate in this year's Summer Holiday Musical Concert 2009 in Italy next month.
The Summer Holiday Musical Concert 2009 is a brain-child of Patricia Aminado and a consortium of other event organisers who have put together this great show to project the culture of the country through music.
Awudu Abubakar Shaddique a.k.a Old Sodja and Oduro Asare Kingsley a.k.a Bomofour will be performing alongside other artistes like Kwame Micah, Biney Shrif, Asamoah Bernard, and Hubert Kwateng among others who are expected to fly high the flag of Ghana in Italy.
In a brief chat with The Spectator, their manager and producer, Mr. Cann of Cann Entertainment, said the musicians were invited by Patricia Aminado to participate in the event and he is very confident his guys would live up to expectation.
He is hopeful this would be an exciting event which is going to expose the young musicians to the international community and promote Ghanaian culture to the out-side world.
The two are expected to launch their latest album after they return home from the event.