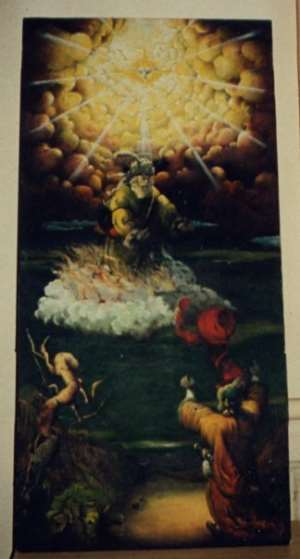 For some people, the ability to vividly paint and bring to life their imaginations, and convey the emotions behind these imaginations is somewhat limited or nonexistence. However, the same can't be said of a young man who lives and breathes art; Eugene Ankomah an innovative and multitalented artist. Eugene is endowed with the ability to communicate through his various works. Every single stroke of his brush commune various philosophies, wisdom, sentiments, views, beautiful and broken memories, intricately and delicately translated into lines, shapes, forms, values, shades, space and textures, impeccably harmonized into impressive works of art open to various interpretations.
Born in the United Kingdom to Ghanaian parents, Eugene spent part of his early life in Ghana, and returned to the UK at the age of 13.
He traces his interest in art back to the tender age of 3, as a child he was obsessed with drawing boxes before progressing to drawing members of his family. In school, his talent was never lost to his fellow classmates or teachers, it won him their admiration. Through the years, Eugene has diligently applied himself to honing and perfecting his skills. He attended the Central St. Martin College of Art & Design, and then proceeded to earn his bachelor's degree in Illustration and Fine Art at the University of Westminster.
Eugene's unquestionable talent is evident the moment one views his works. One of his paintings, "Elijah Ascending to Heaven," highlights his infinite potential and versatility as an artist. While some of his works have viewers awestruck, others such as "The Fighter" and "Drunkenness" with its painstaking emphasis on distortion echoes deeply rooted emotions within the viewer. Eugene's recent socially inspired and politically flavored work appropriately titled, "The Cover Up Series" showcases his artistic range. He plans on unveiling his new works at his upcoming UK Solo show called "Cover Upps-The Definitive Collection."
As an artist, his uniqueness primarily lies not only in his passion, and realistic approach towards the various subject matters that inspire him, but also his methodical and mature presentations of the themes. With his works already been compared to great artists like Pablo Picasso, Eugene is definitely on the right path to leaving his imprint on the art world. However, his relevance as an artist stems from his ability to wow audiences around the world with his bold creations.
The young overachiever has won numerous awards; these include being the first recipient of the Peter Evans Award among others. He counts high profile celebs like prominent Paranormalist - Uri Geller, British Beat Poet and Author Michael Horovitz, Gold Medalist Dame Kelly Holmes, UK Grime Artist- Dizzie Rascal and Comedienne -Jocelyn Gee Essien as some of his numerous fans worldwide.
For any enquiries regarding Eugene's works or to view his works, please visit the following pages/links: www.myspace.com/eugeneankomah, www.eugeneankomah.blogspot.com, www.EugeneArtist.com and YouTube.