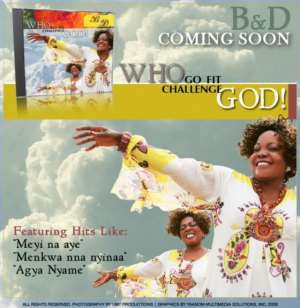 The name B&D may not ring a bell, but if you remember Beatrice & Doris then you're already familiar with their first album with songs like "Enye Onyame", "Onyame Nsa Wo Mu", "Bubu Obonsam" and "Winner".
B&D offers a ten-track effort that quickly reveals their ultimate heart as worshippers with a clear motive to reach the heart of God.
Beatrice and Doris both deliver vocal excellence and a presence that connects with the hearts of every listener anytime you slot in their CD in their music players.
Rebranded as B&D, this group drops their second album, "Who Go Fit Challenge God?".

"Who Go Fit Challenge God?" is the title track. The song was centered on life stories, B&D's trials and tribulations, any obstacles that came their way the answer was God, not man, so the question was who go fit challenge God? The pastor, juju man, Obama, I think not.
"Meyi Na Aye" is the first song on the CD of the album. B&D claim it is a happy song. Listening carefully to the song you would realise that it is a praise song to acknowledge what the Lord has done for us, "God has taken us from the nowhere and he has brought us somewhere, he is worthy to be praised. The song was produced by Ghana Music Awards winner, Nacy and has a video which was directed by GYO of Phamous People.
Another well arranged praise song is "Menkwa Nna Nyinaa". According to Beatrice she was praying one night in Ghana when her mom was pronounced dead and got the lyrics when she was worshipping God. She immediately went to the studio and Nacy made it a hit.
"Winner" remix talks about always being a winner in life. Winner was inspired from an accident B (Beatrice) went through in 2004, she thought she was going to die, but being a winner she conquered Satan and is still alive and growing strong and will continue to win. B wants her fellow christains to know that we all are winners over the devil.
"Ebe Ye Yie" (remix) featuring Nacy was on their previous album. Nacy heard the song and liked the song and said he wanted to make a remix, which he has a verse on also. As the song says with God everything is possible.
"Wo Fata" is a worship track that exalts and lifts our Lord and savior. "He is the creator, the beginner and finisher of everything and needs to be praised always", Beatrice said.
Other soul inspiring songs on the album are "Bediako Mu Osahene", "Hwan Mpo Na", "Mesum Nyame", and "Agya Nyame".
This is an album that glorifies the Lord, to comfort and encourage people, and also to bring joy to everybody's life. God will surely bless you when you buy a copy of the album that has already been launched in Canada. The album is yet to be launched in Ghana.
The album was solely engineered by Nacy (Nana Kwaku Osei) at Mylife Studios and the videos were done by George "GYO" Gyimah of Phamous people.