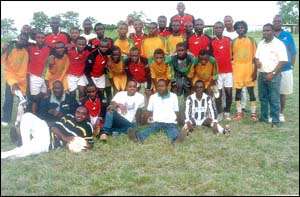 Members of the Gadhafi Babies Club The Libyan Embassy in Accra has donated assorted items including bags of rice, biscuits, cooking oil and flour to Gadhafi Babies, a divisional football club based in Tinkong, Akuapim.
Coach of the team, Alhaji Mohammed Muftao, who disclosed this to DAILY GUIDE SPORTS, thanked the Libyan Leader, Muhamar Gadhafi, and officials of the embassy for the kind gesture.
"The Libyan Leader is our life patron and we thank him very much. We also wish to thank Mr. Ali Kurwat, and Mr Mohammed, both of the Libyan Consulate in Accra."
He called on corporate bodies to emulate the gesture of the Libyan Embassy "by coming to the aid of football clubs that are in need of support".
Alhaji Muftao, who is also the Akuapim District Chairman of the Football Association (FA), congratulated the Libyan Leader, Muhamar Gadhafi on his nomination as the African Union (AU) Chairman.
From The Sports Desk