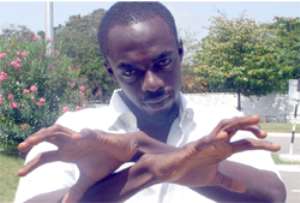 Okra CORE RAPPER Okra Dawidi has proved he is worthy of attention from followers of Ghana's music. The young rapper last Saturday thrilled fans at the Boomerang night club in Accra where he performed alongside Kwaw Kese, multiple award winner at the 2008 MTN Ghana Music Awards, as part of activities to premiere his new video.
Okra who is otherwise called Emmanuel Ralph Nikoi Kotei hit the mini stage in the club after he was introduced by Kwaw Kese, who had already performed a number of his hit songs.
He however has to do some magic to draw to himself the attention that was accorded the 'Abodam' crooner prior to Okra's coming on stage.
Having got hold of the microphone, Okra for some moments criss-crossed the stage and commanded the DJ to 'kill' the sound that was masking the inner perimeter of the club, after which he took fans through some minutes of freestyle rap.
He was impressive as he blended Pidgin English with Twi while unleashing local proverbs in his act. Finally that managed to draw all the attention to him as the 'Abodam' crooner himself and the fans watched him in admiration.
Okra and Kwaw jointly ripped the stage when they performed the song 'Kosoaa', whose video was premiered. Other artistes such as 4x4, Tinny, Asem, 5five, Bradez and Okyeame Kwame who passed through, also took turns to thrill the fans.
The video which was premiered also caught on well with the fans as most of them observed it was a nice video.
The must-see video was shot at a location off the Spintex road in Accra. It was directed by music video director Ezekiel Tetteh, popularly called Stip, of Solid Multi-media. The video features Kwaw Kese, Jagoo - an upcoming artiste from the Abodam camp - and some lovely ladies from the Exopa Modeling Agency. In the video Okra, Kwaw and Jagoo are invited to a party by the sexy ladies.
This saw the rappers drive to the party ground in expensive cars with a Police escort.
What went on subsequently in this video is what ardent music video viewers should search for. Fennec Okyere told Beatwaves that the video would start showing very soon. According to him it is anticipated to change the face of music video production in the country as done by Kwaw Kese's 'Mmaa Pewo' video which won an award at this year's GMA awards.  By Francis Addo