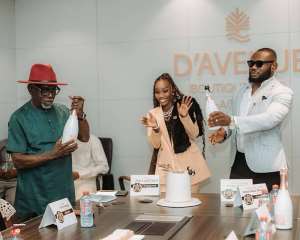 It was all glamour, glitz, class and funfair at the official grand press launch of the global and Prestigious Supreme Dynamic Talent Academy Awards 2k23 (SDTA Awards 2k23) as Actor, Prince David Osei renewed his brand ambassador contract for the second consecutive year with SDTA Awards in a star studded event at the plush, D'avenue boutique hotel in Accra.
As the first leading Global and Prestigious Awards From Africa, held annually with a twofold purpose:
1.To celebrate & honor the Supremacy & Dynamism Of Both African & International Creatives & Talents in the Creative and Entertainment Industry, whose works have projected the Arts an Entertainment sector Supremely and
2. To spotlight on ALL Walks of life, to celebrate and honor personalities from around the globe with short or long standing service to the development of their respective fields and also to the cause of Humanity, good governance and public Diplomacy for creative and innovative Contributions.
SDTA Awards also aims to promote and celebrate the Global Supremacy of Talent and Creativity, foster economic growth, inclusiveness, cultural exchange, friendship and global peace.
Speaking during the Press Conference & his unveil as SDTA AWARDS Brand Ambassador 2023, Prince David Osei said "Dear friends and esteemed colleagues, I hope this message finds you in good health and high spirits. As the Ambassador of the Supreme Dynamic Talent Academy Awards, it is with great pleasure and pride that I extend my warmest greetings to you.Today, I stand before you to celebrate the remarkable greatness found within the entertainment industry. The Supreme Dynamic Talent Academy Awards serve as a platform to recognize the immense talents, hard work, and dedication exhibited by individuals in this field.Through the power of their art, these individuals inspire, inform, and educate audiences all around the world. They captivate our hearts, challenge our minds, and transport us to new and extraordinary worlds. It is through their craft that they truly impact lives".
"My utmost admiration goes to all the outstanding individuals who have left an indelible mark on the entertainment industry. Your relentless pursuit of excellence is a testament to your unwavering commitment and passion. Each story, each performance, and each moment of brilliance showcases the extraordinary talent present within the industry. I extend my heartfelt gratitude to all those who have supported and contributed to the success of the Supreme Dynamic Talent Academy Awards so far. Without your unwavering belief in the power of art and talent, this celebration of greatness would not have been possible. As we look forward to the upcoming awards ceremony, slated for the 17th of December 2023. Let us join hands in celebrating the magic and magnificence of the entertainment industry. It is through our collective appreciation and recognition that we continue to uplift and inspire those who dedicate their lives to this remarkable craft. Thank you for being a part of this incredible journey," Prince David Osei added.
"Today, we are excited to announce the renewal contract with Mr Prince David Osei, he is the kind of brand ambassador you would like to work with. He has great zeal and passion and truly cares for the improvement of the organization, we are elated to have him as an Advisor and Brand Ambassador. He is an industrious Actor, successful in his craft and exudes the qualities which exemplifies the typical Brand Ambassador for SDTA AWARDS and we're excited about this collaboration with him," Hon. Zino Lexili Ogazi , chairperson of SDTA AWARDS opined.
SDTA AWARDS Vice chairman, Hon. Eric Michael Ogazi also commented: "We are thrilled to be renewing our partnership with the International Multiple Award winning Ghanian Actor, renowned in the creative arts sector as a leader of his generation of actors, mentor to the new school and successor of the old generation of film legends, Mr. Prince David Osei has exemplified supremacy championing SDTA Awards, he has the positive vibe & energy we need. We look forward to more greatness and Adventures, thank you!"
Some of the Dignitaries who were present at the event includes: H.E Maher kheir, the Lebanon Ambassador to Ghana, Actor Fred Amugi, Film Producer, Enoch Attakorah, Music Producer, Mix Master Garzy, Film Producer & C.E.O of Venus Films, Abdul Salam Mumuni, International Youth Network for United Nations Security Council Resolution 2250 - HRH Prof. Dr Cheaib, Actress, Akumaa Mama Zimbi, Cameroonian Musician, Naomi Achu who flew in from the United States of America for the event etc.
Nominations for SDTA Awards 2023 is now ongoing. To apply, head over to www.sdtaawards.com