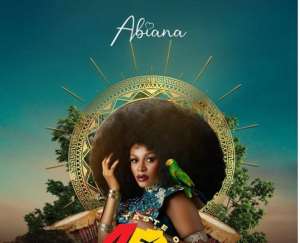 The 2021 VGMA Female Vocalist of the Year, Abiana has announced the release of her first 'Taste of Africa' EP on Friday, November 24.
Abiana, real name, Eldah Dickson made the disclosure on her Instagram page earlier today.
The "Taste of Africa" EP will officially be launched at the Alliance Francaise, near Airport City, with a huge performance.
Abiana has promised that it's going to be a night of good music, an eclectic display of talent and a show-stopping performance from other top artists in the industry, including Amadzeba, Nat Brew, Kwabena Kwabena, Fameye, Epixode, Okyeame Kwame, Worlasi, Floewe, and loads of amazing surprises.
The EP has six tracks and according to her, each song has distinct flavour and captivating storytelling experience. The songs are Highlife, High, Far Away ft Fameye, Desire, Sea Man Love and Do Ni Bi. All the songs were recorded and produced by Dan Grahl except Far Away which was produced by Liquid Beatz.
"Taste of Africa" EP is a way of showcasing Abiana's great talent as a singer and songwriter, mixing traditional African inspirations with contemporary elements to produce a genuinely exceptional sound
The "Taste of Africa" EP will be available on all major streaming platforms, including Spotify, Apple Music, and Deezer, allowing listeners all around the world to experience the distinct sounds of Africa.
Apart from being a singer, Abiana who is also a songwriter and composer started professional music as a Backup singer with Afro Harmony.
She later became the lead singer for Hyskul band in 2014 before going solo in 2020 when she released her maiden song, Adunle.
Adunle earned two nominations for Best Female Vocal Performance and Songwriter of the Year at the 2021 VGMA.
Abiana has earned lots of admiration over the years with her craft. Last year, she composed a theme song for TV3's Ghana's Most Beautiful.
However, the artiste who earned a spot in this year's VGMA Best Female Vocal Performer category for the third time in a row, has a rich repertoire of songs such as Adulei ( October 2020), Amen (December 2020), Bonooni (March 2021), Me & You (July 2021), My House ( October 2021).
On November 6, 2021, she released her debut Alemle Lala album and followed up with African Girl, the official theme song for 2022 Ghana's Most Beautiful (July 2022) and Shika ( September 2022).