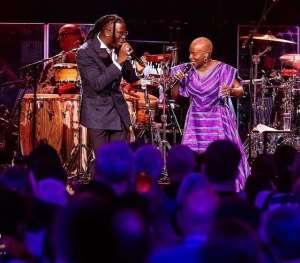 Ghana's reggae/dancehall sensation, Stonebwoy, garnered praise on social media for his show-stopping performance alongside Angelique Kidjo at London's Royal Albert Hall. The event marked a celebration of Kidjo's incredible 40-year journey in the music industry.
In the iconic Albert Hall, Stonebwoy and Kidjo electrified the audience with their latest collaboration, 'Manodzi,' from Stonebwoy's acclaimed album '5th Dimension,' creating a seamless blend of musical styles that filled the air with pure joy.
The night reached new heights as Kidjo, the Beninese singer-songwriter and five-time Grammy Award winner, took center stage. With powerful vocals and captivating stage presence, she mesmerized the audience with electrifying performances of her beloved hits, accompanied by the Chineke! Orchestra and esteemed guest artists.
Kidjo's global impact was evident in her extensive musical repertoire, effortlessly combining West African traditions with the vibrant sounds of American R&B, funk, and jazz, drawing inspiration from the diverse musical landscapes of Europe and Latin America.
This extraordinary concert marked the beginning of Kidjo's year-long world tour, spanning continents such as Australia, Asia, Europe, and South America, with a grand finale scheduled at New York's prestigious Carnegie Hall in 2024. The event paid tribute to Kidjo's contributions to the global recognition of Afro-sounds and her unwavering inspiration to women across Africa.
Stonebwoy's social media pages have been flooded with congratulatory messages captured by Blogger and Journalist Attractive Mustapha following his performance with Angelique Kidjo.
The pictures shared after the event depict a proud moment for Ghanaian musicians, showcasing their success on an international stage.