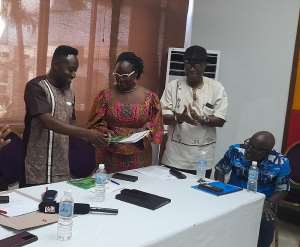 Actor and media personality, Mr. George Quaye, has been appointed as the Artistic Director in Residence for the National Theatre.
The appointment was announced by the facility's management on Thursday.
This appointment stems from a decision by the National Theater's Management and Board to launch an Artistic Director in Residence program, aimed at providing leadership for the National Drama Company.
In his new role, Mr. Quaye will spearhead the production of the drama "The Gods Are Not To Blame," originally penned by Ola Rotimi, scheduled to premiere at the National Theater on December 2 and 3.
Introducing Mr. Quaye officially, Ms. Amy Appiah Frimpong, the Executive Director of the National Theater, emphasized that the Artistic Director in Residence program aims to foster "a stronger collaboration between the public and private sector in the development of theatre in Ghana."
Ms. Frimpong explained, "The idea is to collaborate with a director renowned in the performing arts field, possessing a strong artistic voice, a history of directing plays, and a substantial audience and sponsor base for past events."
She expressed hope that the Artistic Director in Residence program would bring fresh and diverse perspectives to the theatre's content production and working processes.
"We anticipate leveraging the Artistic Director in Residence's ability to attract audiences and sponsors, providing opportunities for our staff, particularly in public relations and marketing, to learn new processes and ideas," Ms. Frimpong stated.
Believing that this concept aligns with the Theater's goal of "inspiring artistic experiences and promoting the performing arts," the Executive Director added that the relationship with Mr. Quaye would help "build bridges with directors and audiences."
Expressing gratitude to the National Theater's management and Board, Mr. Quaye called on stakeholders across sectors to contribute to the National Theater and the performing arts industry.
Describing "The Gods Are Not To Blame" as the largest stage play in Africa with significant moral lessons, Mr. Quaye highlighted that the plot resonates with current events in the country.
He encouraged the public to attend the show on December 2 and 3, 2023.