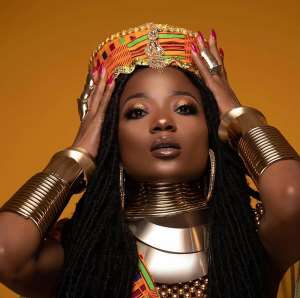 Ghanaian music star Efya has revealed she has turned down offers to use black magic for success several times in her career.
She spoke to sit-in host Akua Sonto on Accra 100.5 FM's Ayekoo Ayekoo, Wednesday, November 15, 2023.
Citing recent news about "some children, boys, killing their grandparent for ritual money", Efya observed that "it's a story that's basically saying that try and control yourself so that you don't sell your soul to the devil, because in this world of ours, there are many enticingly beautiful options but we do not have to do all of them".
"Sometimes when you have to upgrade in life, you will meet [people] that will ask you to go do something, for instance, you may be asked to go take a ritual bath and other things when you go to the Mallam," Efya said. "Or maybe mess over a friend.
"There are many enticingly beautiful things but we do not have to do all of them," she stressed.
"It's a warning I am sending out to everyone – don't sell your soul to the devil," Efya said. "There are many things that appear to be beautiful but you must not engage in them."
According to the 'No More' singer, she has been approached with "conversations" seeking to entice her to dabble in black magic for success.
Unmoved, she said, "I always put it [the suggestion] down and just let them know that I know where my source is and my source does not ask me to go and do those things".
Noting that "it is fashionable these days" to use unethical spiritual means to gain success, she stressed, "There are so many things you are at liberty to do but you do not actually have to".
When asked, Efya said she is a Christian who worships with the Assemblies of God.
"I was born into the Presbyterian faith but my mother married from Assemblies of God so that's where I am now," she explained.
The multiple award-winning Soul, Jazz and Highlife singer-songwriter's latest offering is a 4-track extended play (EP) titled No More Tears. Unlike some of her previous pieces, she revealed all songs on the EP were penned by her.