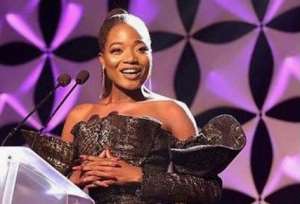 Efya, Ghanaian songstress
Renowned Ghanaian singer Efya has said she does not feel pressured to gain recognition internationally.
Efya believes her international fame will grow over time through her artistry, rather than feeling pressured to rush projects or chase accolades prematurely.
In an interview with Berla Mundi on TV3's New Day, the songstress exuded confidence that international success will come when the timing is right for her unique career journey and artistic vision.
"There's no pressure for me; it's just a process. I believe I will get there; it's just the timing. Everybody's timing is different, so I don't have to rush myself to go and do something just to add something up.
"I do not rush it; everything I do is already intended and planned. I am not rushing to do things," she said.
When asked about criticism from fans regarding her lack of international awards, Efya reiterated that she is not moved by what others say.
"I have won about 45 awards in my career, I am not thinking about what they are thinking... It's for me first," Efya noted.
The singer called for an end to unfair comparisons between Ghanaian artists and those from other markets.
"We come from a place where the industry is not as big as in other places. So please stop comparing. We don't have the financial assistance as most of these artistes do to be signed to international labels to be able to get access to some of the things that these people are getting access to," she stated.
The interview with Efya occurred as debates about Ghana's music scene continue circulating.
Discussions were resurrected after no Ghanaians were nominated for the 2024 Grammy Awards.
In light of this, many industry insiders have called for reducing the burden on Ghanaian acts, particularly by local netizens.