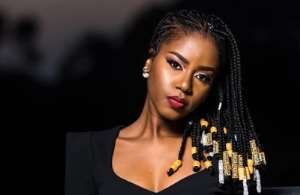 Ghanaian songstress MzVee
Ghanaian singer MzVee has released a new single titled 'Destiny' to affirm she is in control of her own life journey.
In an interview with TV3's 'New Day' show on Tuesday, September 19, the Afro-pop artist opened up about the inspiration and meaning behind the song.
"I'm taking control of my life and I am the one in charge of it. Nobody else can move my life in any other way. Just me, just God," MzVee stated.
She explained that 'Destiny' reflects where she is today in her life and career.
"This song is inspired by everything my life is saying today, like I have just been moving at my own pace and in my own time, yes destiny has to do with just me as a person as my journey so far."
The chart-topping artist revealed the song also symbolizes her personal growth over the years.
"I started from a very low point in my life, very timid, very shy, not confident at all, I was not very okay mentally and in my heart but just going through life and music, people I have met on the has just brought me to a very beautiful point," she said.
Through her music and taking control of her destiny, MzVee has transformed herself into a strong, confident woman in charge of her own life's journey.