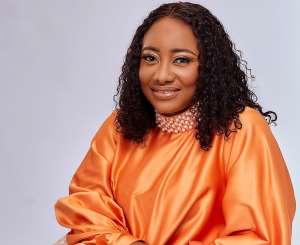 Ruth Adjei
It's the dawning of a new era for gospel's latest queen, Ruth Adjei after successfully bagging a nomination as the Female Vocalist of The Year at the 2023 Ghana Music Awards UK.
It came as not much of a surprise and a met expectation as the 'Matchless Father' hitmaker swept the length and breadth of the country since its release.
Reacting to the overwhelming news of her nomination, Ruth Adjei said "I'm truly thankful to God. the board of the Ghana Music Awards UK and all key industry players who found me worthy of these nominations."
"I'm eternally grateful also to my family, friends, management team, fans, loved ones, the Church of Pentecost, and everyone who has supported the Ruth Music ministries and brand from day one," she stated.
The awards, organized by Alordia Promotions and West Coast UK, was created to recognise and honour the accomplishments of Ghanaian musicians and to promote Ghanaian music on the global music scene.
The nominees were announced in a variety of categories, including Best Male Artist, Best Female Artist, Best Highlife Artist, Best Afrobeats Artist, Best Song of the Year, Artiste Of The Year, and UK-based Best Gospel Song.
GMA-UK's Head of Events, Kwesi Ernest, said the awards were created to give Ghanaian artistes access to a global marketplace where they can collaborate with other international artistes, learn about music trends, sell their music, and gain other advantages.