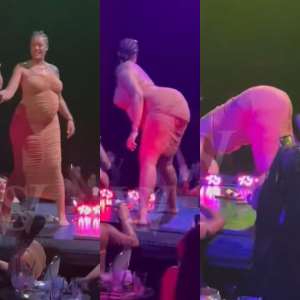 A video circulating on social media has caused a stir, showing a heavily-pregnant woman energetically twerking at a public event.
The footage, which was shared on the Instagram page, Spiritual World, owned by an American blogger, shows the woman donning a bodycon dress as she confidently performs her dance moves.
In the video, the expectant mother can be seen pulling up her dress to showcase her buttocks to the enthusiastic crowd.
Undeterred by her pregnancy, she then proceeds to twerk, capturing the attention and applause of the hundreds of people gathered at the event. As the spectators cheer her on, she even momentarily drops to her knees while maintaining her dance routine.
The sight of the pregnant woman twerking has sparked a range of reactions and ignited discussions on social media platforms.
Supporters argue that women should be free to express themselves and celebrate their bodies, regardless of their pregnancy status.
They commended the woman for her confidence and ability to embrace her femininity.
However, the video has also raised concerns about the appropriateness of such actions, particularly during pregnancy. Critics have expressed worries about the potential risks and strains the dance moves may cause the woman and her unborn child.
The discussion has prompted questions about the boundaries of self-expression and the potential impact on prenatal health. It is, however, unclear from where the video is emanating from, although, from the accents heard in it, it could be anywhere in the United States of America.
Watch the video below: