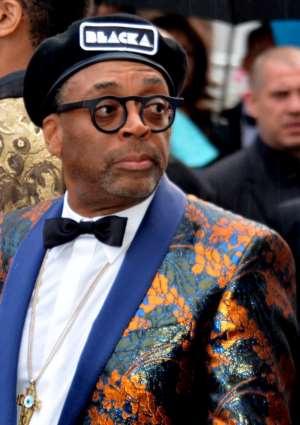 Popular American filmmaker and actor, Spike Lee, was part of the Creative Arts team that accompanied the Vice President of the United States, Kamala Harris, during her 3-day visit to Ghana.
In an interview on Asaase Radio, the American movie star while answering questions regarding the Ghanaian film industry, said, players in the film industry have not yet approached him.
"….No one has approached me from the film industry in Ghana. I would love to meet people in the film industry but no one has approached me…" he said.
However, three days before Mr. Lee's shocking revelation, Ghanaian entertainment journalist and screenwriter, Osarfo Anthony, who has won and placed in a number of screenwriting contests in Hollywood, shoot his shot on Instagram at the 'BlacKkKlansman' director.
Osarfo posted: copied by Blogger and Journalist Attractive Mustapha Nii Okai Inusah
"The 'BlacKkKlansman' director, @officialspikelee, is in Ghana, West Africa.
I'm at your service ????. From Africa to Hollywood, we can make it happen.
Enjoy all the treats in the Motherland.
Namaste ????"
It's Osarfo's wish that as more and more African American filmmakers come to Ghana as part of the Year of Return/Beyond the Return initiative, they'll be interested in optioning, buy, or invest in screenplays written by Ghanaians or African screenwriters.
BRIEF PROFILE
Osarfo Anthony is a diverse, multi-award-winning horror screenwriter, and an art/entertainment journalist.
Welcome home, sire!
Wants screenplays from Africa or written by an African?
He has an impressive career spanning more than a decade in art, tourism, and entertainment writing.
As a genre writer (horror) and a lover of dark narratives, he's been writing screenplays since 2009 — present.
Anthony also writes animation screenplays. He's currently developing a project with a reputable animation company named Animaxfyb Studios.
Anthony is a guest blogger for diversecrew.com and has been covered by online portals such as: medium.com, scriptsummit.com, thelanote.com, nyglamour.net, capitalfundscreenplaycompetition.com, and others.
He has won and placed in largely genre-friendly screenwriting contests, notable are:
WINNER, Best Original Screenplay – Hollywood Blood Horror Festival.
WINNER – Best Supernatural Horror Script – Hollywood Horrorfest.
WINNER – Best Horror Screenplay – Hollywood Just4shorts Film and Screenplay Contest.
FINALIST – 13Horror.com Film & Screenplay Contest.
FINALIST Horror/Thriller category – Creative World Awards (CWA).
SEMI-FINALIST – Los Angeles Crime and Horror Film Festival.
QUARTER-FINALIST – Austin Screenplay Awards.
SEMI-FINALIST – Filmmatic Short Script Contest.
SEMI-FINALIST – Screenwriters Network (SWN) Script Competition.