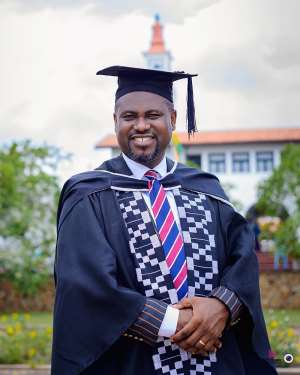 Gilbert Aggrey, popularly known as "Abeiku Santana," has just earned another Master's degree from the University of Ghana Business School in Marketing Strategy.
Santana is a well-known professional journalist with a wealth of knowledge in various areas of media, public relations, and marketing, including relationship marketing, brand strategy, social marketing, strategic management, and marketing research.
During his studies at the UGBS, Abeiku Santana continued the trajectory of developing a keen interest in the hospitality industry and its dynamic nature. He conducted a research study on service quality and hotel performance post-COVID-19, which has garnered significant attention. His research aimed to explore how service quality affects the performance of hotels in the wake of the COVID-19 pandemic, a pertinent issue in the hospitality industry.
In addition to his Master's degree in Marketing Strategy from the University of Ghana Business School, Abeiku Santana also holds a Master's degree in Tourism and Hospitality Management from the University of Cape Coast and a Postgraduate Diploma in Public Administration from GIMPA.
Santana's education in both marketing and hospitality management has given him a unique perspective on the hospitality industry, allowing him to approach challenges with a holistic viewpoint. Recently, the University of Cape Coast honored Santana for his role in promoting the institution on various platforms. This recognition is a testament to his dedication to his profession and his commitment to advancing the hospitality industry.
Santana's Master's degree in hospitality management has given him a deep understanding of the hospitality industry's intricacies, including operations management, service quality, and customer experience. His education, coupled with his extensive experience in marketing and entrepreneurship, has positioned him as a thought leader in the industry. This milestone, coupled with his extensive experience, has equipped him with a unique skill set, making him a valuable asset to the hospitality and marketing industry.
The ace media practitioner, speaking on the sidelines of the graduation, was elated about his latest milestone and expressed gratitude to all who aided in the successful completion of the program.
"I want to first of all thank the Almighty God for His blessing on my life, and secondly, my wife, who guided me through another educational journey, as well as family and friends.
"I am hopeful that this latest educational accolade will help advance my corporate contribution to Ghana as I aim to be one of the top global expert consultants in media, marketing, tourism, and hospitality," he said.
Abeiku Santana has had an illustrious career in the media space spanning more than two decades and is arguably the most decorated media personality in Ghana. He was inducted into the Chartered Institute of Marketing Ghana (CIMG) in 2008 and is a member of the International Association of Travel and Tourism Professionals (SKAL), Tour Operators Union of Ghana, Advertising Association of Ghana, among others.
Some of his awards include 2021 Radio and Television Personality of the Year, TV Male Entertainment Show of the Year (2018–2019, 2016), Ghana Entertainment Awards USA Best TV Male Personality (2019), and the Young Entrepreneur Award for Male Celebrity Entrepreneur of the Year.
Others include Event Male MC of the Year, The Mfantseman Heroes Award (2015), M.I.C.E Africa 2018, EMY Africa Special Recognition Award for Tourism Promotion and Marketing (2020, Kaya Tours), and Ghana National Tourism Awards, Tourism Media Personality of the Year 2021, organized by the Ghana Tourism Authority.