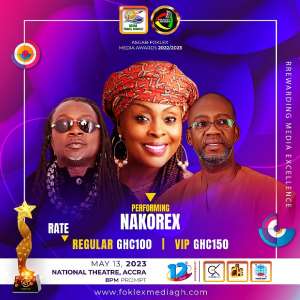 Veteran Ghanaian musicians Amanzeba, Rex Omar and Akosua Agyepong will be headlining the 2023 edition of the Foklex Media Awards which will be coming off on 13th May 2023 at the National Theater in Accra.
Organizers of Foklex Media Awards on Friday, 3rd March, 2023 unveiled the nominees for the 2023 edition of the awards at the City Hills Events (Millenium City high street) Kasoa.
During the unveiling, the organizers hinted at giving a car to the ultimate winner and also confirmed in a chat with Blogger Attractive Mustapha Nii Okai Inusah that Amanzeba, Rex Omar, and Akosua Agyepong are the headline artistes.
According to the organizers, they chose to bring these three veteran musicians on one stage per the dying request from the fans to see the trio do their thing on stage once again as they did in the 90s with their stage name NakoRex.
The CEO of the awards, Mr. Frank Owusu, also added that they have some surprises and will surely announce a few popular artistes days before the event.
"We will announce some few current musicians along the line and same time, we know there are some few fracases among some of the veteran musicians, we want to see how we can use our platform to bring them together," he said.