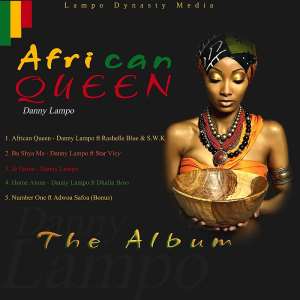 Ghanaian UK-Based international Afro beat Artiste Danny Lampo has unveiled the official artwork for his first studio Album Titled "African Queen" which has 5 solid songs.
On the EP he gives his fans varieties of songs which has songs like African Queen featuring Rashell Blue and SWK, "Bushyame" which has Star Vicy on "Je t'aime", "Home Alone" which also features dancehall artiste Dahlin Boss and the last song "Number One" which also features one of the finest Singers AJ Safoa
The album is said to be released on the 10th of February, before Valentine's Day. Danny Lampo has served his fans with great songs in the past years and won numerous awards to his credit, He has won so many fans across the world with his style of music. He recently released a song titled "Baba" that had Nigerian music producer Loopybeatz.
Take a look at the official artwork for his forthcoming album" African Queen."