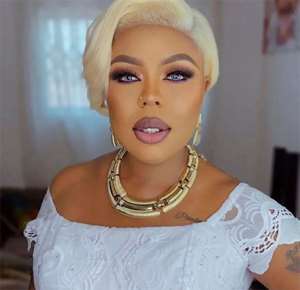 Socialite, Afia Schwarzenegger has been fined by 5,000 penalty units by a Tema High Court in a contempt case against her.
She is to pay GH¢60,000 to the state.
Additionally, the socialite is to pay an amount of GH¢5000 to the applicant, Bernard Antwi Boasiako also known as Chairman Wontumi, for making defamatory comments against him.
Recently, Afia Schwarzenegger was sentenced to 10 days in prison for contempt of court on December 1, 2022 over the same charges and failing to appear, a bench warrant was issued for her arrest.
However, Afia Schwarzenegger later appeared before the court on December 20, 2022 with her counsel who moved a motion on notice for a variation of the sentence under Order 50 Rule 4(1) and Rule 5 of the High Court (Civil Procedures) Rules which deal with suspension of an order and discharge of a person committed, respectively.
The lawyer therefore prayed the court to suspend the sentence.
This was rendered following Order 50 Rule 4(1) which states that the court, which makes an order of committal, may by an order direct that the execution of the order of committal shall be suspended for such period or on such other terms and conditions as it may specify, while Rule 5 (1) states that the court may, on the application of any person committed to prison for contempt of court, discharge the person.
Appearing in the court presided over by Justice Emmanuel Ankamah on Tuesday January 31, 2023, the socialite's lawyer prayed the court to temper justice with mercy since the accused person had shown remorse and had since published her apology in public.
But the court after hearing the application convicted Afia Schwarzenegger to a fine of 5000 penalty units.
Furtherance, the court ordered her to sign a bond of good behaviour for 36 months warning not to comment on the case on any platform during the pendency of the bond.
The court directed that any breach of the orders will warrant her being hauled back to the court.
The court said considering the fact that the applicant has apologised and shown remorse, she deserve a second chance.
Afia Schwarzenegger was sued before the court by Chairman Wontumi together with other contemnors such as United Television (UTV) after she had ran commentary on a case pending before the court during an entertainment show, United Showbiz, broadcast on UTV in July 2022 together with other contemnors.
The other contemnors namely Felicity Ama Agyeman, aka Nana Ama Mcbrown, Kwame Asare Obeng, alias Kwame A-Plus and Emmanuel Barnes alias Mr Logic were fined GH¢60,000 each (5,000 penalty units), which they have since paid.
A fourth person, Fadda Dickson Narh, an Executive Producer of United Television (UTV), was pardoned by the court after the court held that he showed remorse before the case was brought to it by apologising on UTV.
—DGN online