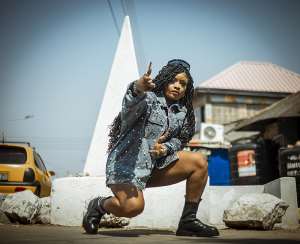 Aklerh
Budding Ghanaian artist Zebulun Aklerh Ocansey, who goes by the stage, Aklerh, is one of the most-talented reggae and dancehall musicians in the country now.
Even though Aklerh has reggae and dancehall as her favourite genre of music, she delivers effortlessly when she does Afrobeats as well.
Aklerh, who is also known as the Authentic Voice of Labadi, was born in 1991. Her father is the legendary media icon and first chairman of the Rastafari Continental Council (R.C.C.), Ahuma Bosco Ocansey, aka Daddy Bosco, which takes away the element of surprise when it comes to why she has decided to walk the path of music.
Aklerh attended Hannah School Complex and Calvary International School all located in Madina a suburb of Accra before she finally got into St. John's Grammar School for her secondary school education and the National Film and Television Institute (NAFTI) for her diploma.
The talented young musician has been doing music as an underground act for close to a decade now, however, she decided to focus on it as a profession back in 2020, and since she dropped her first single in 2021, Aklerh has made a lot of positive waves in the music scene.
The few songs Aklerh has released so far have shown that she is unique among her peers, as she has set the pace by giving the already-established stars a run for their money.
During one of her first major performances at the birthday party of Kojo Kombolo in 2021, she revealed that she ventured into music because she got so angry about an issue and, at the time, music was the only way she could best express herself, which is why she started doing it.
But as things stand, it appears things have been good to her in music, which is why she has decided to stick to the profession.
Aklerh came into the limelight when she released her single titled "Born Rich," which became the favourite of a lot of TikTokers and other social media users in Ghana. The song, which is hosted by DJ Gashie, is still doing very well on Audiomack.
Currently, Aklerh has a new song out, which she titles "Only You." The song has the potential to become one of the hottest tunes in 2023 because it is well-composed and the production is equally top-notch.
She has also indicated that she has the intention to work with anyone as she prepares to release her first EP very soon.
Youtube -