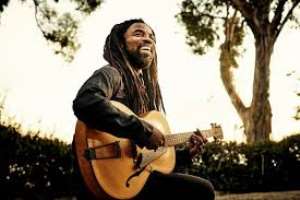 Rocky Dawuni, Ghanaian singer
Ghanaian afro-roots musician Rocky Dawuni has opined on why his music has been receiving global recognition.
The three-time Grammy-nominated singer said he does not copy other people's styles.
The seasoned singer said he is original and unique in his own style.
He said he has been creating his own style, which is a blend of highlife music and Afrobeats (Afro-roots).
He indicated in an interview that for any artist to be able to receive international laurels, they must be able to create their own styles that are unique, or else they can never make it.
"When doing music, you don't have to do it like someone else or copy what somebody is doing", the "Neva Bow Down," he said.
He explained, "My style is not pure reggae music, it is called afro root. It is a style I mix with Highlife, Afrobeat, and different mixed together. So if you are doing music, you don't have to do it as someone else or copy what somebody is doing. When you do that, you won't make it."
He continued, "So what I'm saying is that you can't copy somebody's style and make it yours. Of course, you can't do it better than the originator of the style so you have to create your own and that is what will make people know that you also have something unique to offer."
The international music icon disclosed that at the beginning of his career, Nana Kwame Ampadu, Ampofo Adjei and other highlife legends inspired him.
"When I began I was inspired by people like Nana Ampadu, and Ampofo Adjei, all of these people inspired me before Jamaican music came. So when you listen to me critically, it is a fusion of all these styles," the Grammy nominee revealed.
One of his powerful songs, 'Never Bow Down' was nominated for Best Global Music in the upcoming 65th Grammy Awards Ceremony.