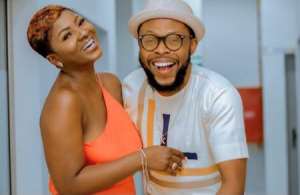 Celebrated Ghanaian actress and skit maker, Priscilla Opoku Agyeman, popularly known as Ahuofe Patri, has opined on her relationship with her "supposed" lover and skit-making mate, Kalybos.
Many Ghanaians, especially those who enjoyed the record-setting 'Boys Kasa' comedy skit by the two, have been anticipating to see where the affection shown by the two in the series will lead to.
Speaking on the Accra-based "Adwuma Adwuma" show with host Felicia Osei, Ahuofe Patri said they have agreed to give birth if both of them are still single after two years.
"We have come to an agreement that, after two years, if I don't have a lover and he also does not have one, we will have a child," she said.
Though her statement was not clear about whether they will be walking down the aisle after having a child together, the celebrated actress said they are in each other's plans.
She stressed that Ghanaians should watch out as they are about to start paying attention to each other.
"So, watch out; if you don't hear that either Kalybos or myself is married, we will have a baby coming out," Ahoufe Patri said, adding, "We will probably start paying attention to each other. We are in each other's plans."