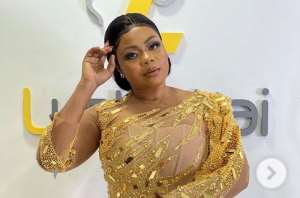 Mrs. Gifty Adorye, known in the gospel music fraternity as Empress Gifty, has taken a swipe at some lousy Ghanaians.
The musician and fashionista expressed her anger over the attitude of some Ghanaians who support foreign countries against Ghana in football matches.
In a Facebook post after the Black Stars lost to Portugal 3-2, Empress Gifty called out people who cheered the European country and described them "witches."
To her, it will take only a witch or wizard to hate his or her own and love another.
"The definition of witchcraft is when you support teams in Europe you don't know but wish failure for your national team," she posted.