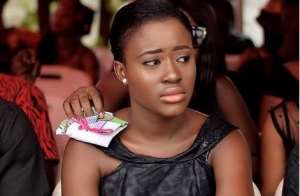 Fella Makafui, Ghanaian actress
Fella Makafui, Ghanaian actress and wife of popular Ghanaian rapper Medikal has received a backlash on Twitter over his recent post.
In her post, the actress, who is reportedly having issues in her marriage, asked, "What do men really want?"

Her post attracted a sharp rebuttal from a netizen who lambasted her.
The netizen, identified as Maabena K. Adepa, slammed Fella for complaining about men even when she snatched her man from Sister Derby.
She told Fella not to ever expect that Medikal would remain loyal to her because, just as he wasn't loyal to his ex-girlfriend.
"You took a man from another woman's bed and you expect him to remain loyal?.... You now asking what do men want?" Bit*h if you don't shut ef up over therè," she wrote.