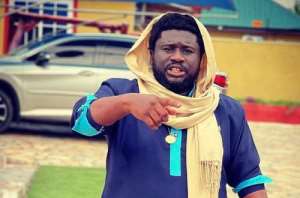 Kwabena Boakye Asiamah, Founder and leader of Universal Spiritual Outreach (Ajagurajah Movement), has issued a brief note of advice to men who play with girls anyhow.
According to the controversial self-styled prophet, men should be mindful not to date virgins and dump them after having their way.
In an exclusive interview with Ghanaian entertainment and lifestyle blogger, Zion Felix, Prophet Ajagurajah noted that the Almighty God doesn't play with virgins, so he will not hesitate to punish those who joke with them.
"Marry any virgin whose virginity you shattered. It is a divine rule. Virgins are God's favourite. Their prayers are heard the most," said prophet Ajagurajah.
He adds "A virgin who refuses to marry is cursed."
Ajagurajah explained that whenever a man have sexual intercourse with a lady, the broken semen that is accompanied by blood signifies a covenant, especially when there is a child after such an encounter.
To him, failure to marry a lady after shattering her virginity is "why most marriages fail."
"If any guy is not ready to marry a lady who is a virgin, prophet Ajagurajah is advising such a person, then, "if you meet a girl and you realize she is a virgin, move far away from her."