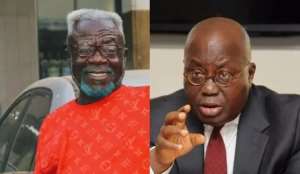 Nana Ofori Agyemang, known affectionately as Oboy Siki, one of Ghana's most ferocious movie stars has taken a swipe at President Akufo-Addo's government.
The actor asserted that Ghanaians were fooled during the days when then-candidate Akufo Addo was vying for votes where he claimed that corruption will never be allowed in his government.
Speaking in a video recorded by Kofi TV, Dada Santo, as he is mostly called, alleged the President is now amassing wealth for himself while Ghanaians continue to suffer.
"We the Ghanaians who are idiots thought Akufo-Addo was a wealthy person; and he confirmed that assumption himself by publicly stating that he was not in politics to amass wealth for himself, but today, all our monies are in Akufo-Addo's pocket," he said.
The controversial veteran actor did not stop there, as he attacked Assin Central Member of Parliament (MP) Kennedy Ohene Agyapong over his decision to become Ghana's next president.
According to Oboy Siki, the legislator acknowledges that the man he once hailed as the best ever President has failed, hence his motivation to succeed him.
"NPP has become a cheap party, you have now realized that the Nana Addo you trusted is incompetent, that's why you are seeking to succeed him and rule this country," he said in a similar video.