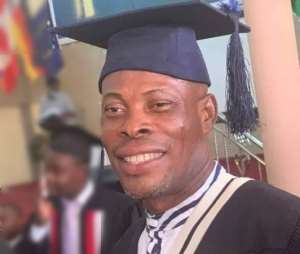 A veteran Ghanaian actor, Prince Yawson, popularly known as 'Waakye' has reportedly died.
From the information gathered from sources, the popular actor died at the 37 Military Hospital on Tuesday, August 2.
Checks have revealed that he was admitted to the hospital after battling an illness that worsened in the last few days.
The demise of the Ghanaian actor has been confirmed by his fellow actor, Bob Smith Jnr (Diaboloman).
During his best days in the acting industry, 'Waakye' played a number of roles in movies.
He was regarded as one of the top actors in the country where he was featured in a number of prominent movies.
It can be recalled that in 2020, he confirmed rumours of an illness that had left him bed-ridden but recovered later.
In the last couple of years, he completely left the acting scene and even attended bible school to become a preacher.
He died at age 52.