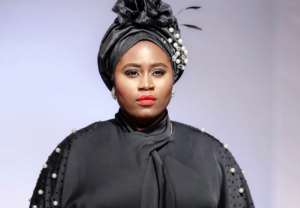 Lydia Forson, actress
Lydia Forson, a Ghanaian actress and socialite has taken a swipe at the Minister of Communications and Digitalisation, Ursula Owusu for causing people to suffer despite knowing there is a relief plan.
She claimed that the Minister purposefully delayed launching the self-service app (for a fee of 5 cedis) in order to frustrate people and make Ghanaians suffer.
In a tweet spotted by Modernghana News today, Monday, August 1, she stated that the Minister was aware of the deadline extension but allowed Ghanaians to waste valuable time in long queues.
"You waited at the very last minute, watching people panic, in despair and frustrated in long queues to announce an extension you knew full well you were going to give; and an app( for GH5) you already had in motion," she wrote.
She further states "No one can tell me this wasn't the plan all along."
Her tweets prompted the Legal Counsel to the President, Mr. Kow Essuman, who reacted by saying "But the fact that you make contingency plans doesn't mean you don't want your original plan to work. In other words, having a plan B doesn't mean you want plan A to fail."
But Miss Lydia defended her assertions saying "Kow please; this is ridiculous I'm sorry, there's absolutely nothing you can say to me to make me think otherwise, NOTHING. To wait until the very last minute, play on people's desperation to roll this out? In opposition, you would have had placards in town against it."
This comes after the Minister, at a presser on Sunday, July 31, announced a deadline extension from today, July 31, to September 30, to allow all Ghanaians who are having difficulty completing the process to do so.
The deadline has been extended for the second time since its inception in October 2021.
"Upon consultation, Government has decided to grant a final conditional extension. The programme will be extended to September 30 to end on the anniversary of its commencement, which will give us one full year of SIM re-registration," the minister stated.
She continues "It will be reviewed at the end of this month [July] and any SIM that has not been fully registered by the end of August will be barred from certain services including voice and data. It will also be more expensive to use unregistered SIMs."
Also, a new phase for the SIM re-registration exercise will be launched in the first week of August 2022.
Ursula Owusu, says the SIM Registration App will be available for download on both Android and IOS.
The Minister added that each registration via the app will be liable to a 5cedi surcharge.
"The SIM Registration App will be available for download on both android and IOS this week barring any unforeseen circumstances. Each registration via the app will be subject to a 5-cedi surcharge," she said.
Concerning how citizens can access the App, she said, "Adequate time will also be required for publicity and public education on the use of the Self-Service SIM Registration App."