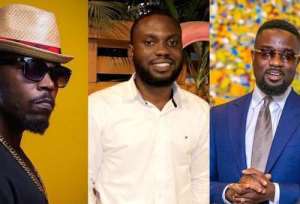 The CEO of Madtime Entertainment Emmanuel Kofi Botwe known by his stage name Kwaw Kese has fired back blogger Odartey Gh for saying he owes Sarkodie an apology for tarnishing his image on national television.
This happens after Kwaw Kese showed displeasure about Sarkodie not giving any feedback on a collaboration he requested for months ago.
The blogger stated that Kwaw Kese had tarnished Sarkodie's image and the fact is that he has even collaborated with Sarkodie more than any Ghanaian artiste.
Speaking to Blogger Kwame Motion on 'THE CONVO' show live on Instagram, he added that he has never had a fight with Sarkodie or disrespected him in anyway so he owes no apology to Sarkodie.
According to him, criticism is part of the entertainment industry and no one runs from that.
"We can have our thing going on social media and other stuffs," he said.