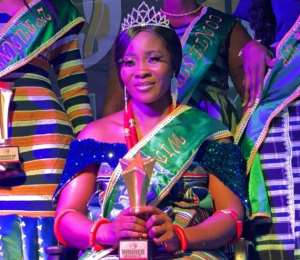 Miss Andala Jakpa-Che Karim, one of Central Gonja's District representatives, has emerged winner of the maiden edition of the Wuripe Savannah Cultural Festival (WUSACUF) 2022 after in a tough competition with six other competitors.
The grand finale of the pageantry was held on Saturday, May 21, 2022 at Wuripe and Sons Royal Lodge at Bole in the Savannah Region.
Seven contestants made it to the grand finale where they opened the show with a presentation of what the Savannah Region is endowed with spanning from human to natural resources, tourist sites and their potential.
The seven finalists thrilled the mammoth crowd during the cultural competition where they showcased their in-depth knowledge of the history, customs and traditions of the Savannah Region.
The fun-filled night had popular Gonja highlife musician Abudu Kusawgu treat the audience with a song he composed for the cultural reality show.
After a number of segmental performances, citations were awarded to prominent personalities and other people for their selfless and tremendous contribution to the pageant show.
Jakpa-Che who emerged victorious on the night, walked home with a brand new Kia morning sports vehicle and several other souvenirs. She is also expected to embark on a free trip to Aqua Safari Resort in the Greater Accra Region where she will have a three-day treat as part of her grand prize.
Umar Mariam who was the 1st runner-up, received a brand new Hajou -5 motorbike and will also embark on a free three-day trip to Zaina Lodge located at Mole National Park in the West Gonja Municipality of the Savannah Region.
Seidu Abiba Kanyiti after emerging as 2nd runner-up, received a deep freezer, amazing souvenirs and a trip to Wuripe and Sons Royal Lodge in Bole.
The three, have been earmarked for a one year role as Ambassadors for Wuripe and Sons Royal Lodge which comes with enormous benefits.
Meanwhile, the remaining four finalists were awarded flat screen televisions ranging from "32 to 43 inches".
Other deserving awards were won by the following contestants; star performer. Soale Sadat Amando, most eloquent. Amadu Alela-Abi and best costume by Miss Lukman Khadija Ewuanye.
The judges for the night were Chief Neripewura Abubakari K. Panfia, Madam Mercy Aluba Ewuntomah (Headmistress, Damongo Senior High School) and Nakwabi-Wura Adam Tampuri.
The Wuripe Savannah Cultural Festival (WUSACUF) is organized by KAGA Foundation in collaboration with the Savannah Regional House of Chiefs with the plush Wuripe and Sons Royal Lodge as headline sponsor.