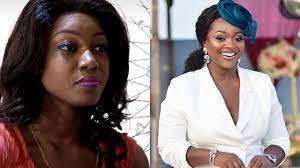 Actress Yvonne Nelson has revealed how colleague actress Jackie Appiah once turned her down when she reached out for a movie role.
According to her, she reached out to Jackie when she wanted to pair her popular actress Yvonne Okoro in her movie, 'Fix Us' as main characters but the former appeared uninterested.
Speaking on Accra FM during the media tour of her upcoming movie, 'Fifty Fifty', Yvonne Nelson noted that she believes that Jackie Appiah turned down the movie role because she had other priorities.
"The job is about priorities. Sometimes I may have a job, and it's paying well, but I have something more important so I guess this is what the case was for Jackie.
"I don't even remember but I think it was on WhatsApp text messaging I used in getting in touch, but if you ask me, she turned me down," Yvonne Nelson said.
Yvonne Nelson added that Jackie Appiah kept her waiting for a long and she had to move on because she had little time.
"I reached out to Jackie when I was going to shoot 'Fix Us' because I wanted to make Yvonne Okoro, her, and myself the main characters. Just as I made this move, 'Fifty Fifty'. I gave her enough time, but you can't just sit around as a producer.
"I called her on the phone and I told her, and she said she would be on set around the same time, but I don't know what happened. I guess she had other plans," she further expressed.