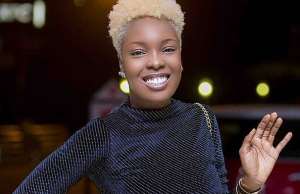 'Towel' hitmaker, Feli Nuna has lamented the hikes in fuel prices in Ghana indicating that it has pushed citizens into unbearable suffering.
In a recent interview, the songstress indicated that the economic hardship in the country has scary.
"Even two years ago when the year of return sparked up and we had foreigners coming, I was like these people are coming to use their time 10 times 7 money to come and distort things, and truly when they come prices rise and after they leave the prices remain the same or go higher," she said.
She said basing on the negative impact of the coronavirus on the global economy, she had projected that costs of living and inflation will all be affected.
"Fuel is now so expensive, I can't even remember the last time I filled my tank but first I just go and be like 'fill it' but right now I am like 'please I beg you just give me 100, it's very difficult, Fanta used to be 2.50p but now it's like 4 cedis and the can is like 7 or 8 cedis," she said.
Appealing directly to President Akufo-Addo, the songstress noted that Ghanaians are tired of the constant hikes in goods and services, therefore the President must take good decisions to relieve Ghanaians.
"Nana we are tired, force for us ... I don't know how they will do it but they need to find a way to reduce fuel because if they reduce it, fuel is the main factor that causes inflation," she added.