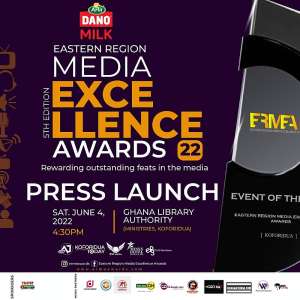 The official media and press launch for the 5th edition of the awards scheme is scheduled for Saturday, June 4, 2022, at the Ghana Library Authority in Koforidua.
The organizers of the Dano Milk Eastern Region Media Excellence Awards officially invite the general public and stakeholders to the launch of its 5th-anniversary edition of the scheme.
This year's edition is under the theme: "Rewarding Outstanding Feats in the Media."
According to the organizers, the media and press launch will spell the categories and definitions for the year under review, the date for the opening of nominations and tutorials on the online nominations, and the use of QR codes for nominations.