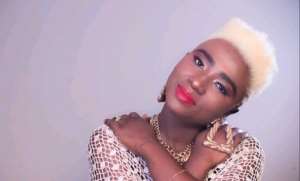 Popular gospel singer, Lady Prempeh has asked the general public to refrain from criticizing female gospel singers who choose to show off.
Speaking at the Vodafone Ghana Music Awards over the weekend, the songstress indicated that gospel singers must be allowed to wear designer brands or look flashy like any other celebrity to events.
"It looks like for us gospel musicians, there's an expectation. That is really one thing that's not helping the gospel field because most people find it difficult to be themselves rather they want to please people. It looks like with gospel, you don't have to show wealth but that's not Christianity.
"We also do well for ourselves and deserve to hold those Gucci and Channel bags. When they see you wearing designer heels they complain, well that's how the society puts gospel musicians so we have to maybe take it that way and see how we can live our lives freely," she said.
It is recalled that Lady Prempeh stunned netizens with blond hair when she released her single 'Enka Ho Da'.
According to her, one's dressing style does not depict the message in their songs.
"With my blond hair which went viral, I had a single titled 'Enko Ho Da' and I wanted to explain what the lyrics were about. No matter how blonde your hair is or no matter how bad your life is, things can change. So 'Enka Ho Da' will definitely go back," she added.
The songstress revealed that she will be going back to blonde indicating that it isn't a sinful act.