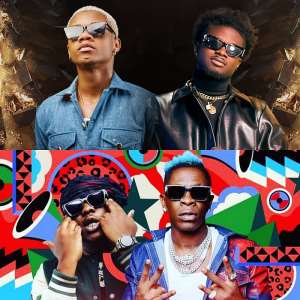 On Monday, social media was flooded by anxious Ghanaians who wanted to know the outcome of two of the international shows which were headlined by four artists from the land.
On Sunday, March 6, 2022, Lynx Entertainment Signees KiDi and Kuami Eugene held their concert at the O2 Indigo in the UK whiles Shatta Wale and Medikal held their DTB concert in the US.
As usual, there were several criticisms mainly from unqualified netizens and a few reactions from some renowned and qualified creative arts industry players which saw split, contradicting, and sometimes compatible opinions.
Truth be told, this is not the time for all the mass and social media backs and forth because clearly, the music industry from neighboring African country Nigeria has dimmed the lights of our industry and that of some African countries.
The Ghanaian performances were full of fire, originality, strength, and the amazing fact that there has been a ray of hope of Ghana music picking its form once again.
It was a moment of disappointment when one renowned Kumasi-based radio presenter decided to lay emphasis on the turnout at both events.
Of course, KiDi and Kuami Eugene had a sold-out event likewise did Medikal and Shatta Wale but the auditorium of the former was filled as compared to the latter but that shouldn't be the focus since we all as a people can try to see the positives in both concerts.
Since the beginning of the year, there have been several conversations around the fate of Ghanaian music in the face of the fast-rising, well-structured, and well-marketed Nigerian music and there have been a lot of talks on the way forward.
Both concerts can be used as points of contact for a carefully crafted solution to sell Ghanaian music to the world;
The Kuami Eugene, KiDi show did not need a lot of international faces to get the crowd into a frenzy, because good old Kwabena Kwabena and Sarkodie alone could add up to the secret ingredient to set the entire auditorium on fire.
Have we ever thought of the damage we could have caused if they had taken a few artists like King Promise, M.anifest, Camidoh, Kwesi Arthur, Mr. Drew, Bosom P Yung, and a few of the new crops of artists?
This tells us that in as much as Nigeria seems to have a whole artillery of artists with which we equally have the same in our industry and can face them on any day and any time.
The O2 Indigo show must be an eye-opener to industry players that we have what it takes, we have the international appeal, and we have what it takes to put Ghana on the global terrain musically.
Let's not forget that one of the world's most-streamed artists from Africa Davido's show was held shortly before KiDi and Kuame Eugene's but that did not affect their show in any way.
Ghana needs to enclose its music space, lay emphasis on how creatives can contribute to sterling performances when our acts get on international platforms.
Yes, the Indigo O2 Arena concert has become the perfect litmus paper that tested that of course, the Ghanaian music space has what it takes to match music platforms on the international scale.
Long Live Ghana music