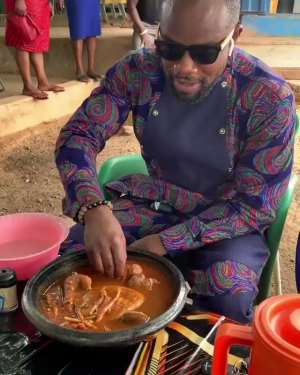 Comical TV and radio personality Kwame Oboadie is well known for posting controversial advice worth emulating on his social media pages.
Usually, there is always a bowl of fufu meal with lots of meat giving it a perfect garnish.
"Fufuo sika nto East Legon," which translated as Fufu money is too meagre to acquire a plot of land at East Legon.
Apparently, Kwame loves food, and his interview this morning on Joy Prime proved a point. "when I receive my salary the very first thing I do is to buy foodstuffs to stock my fridge then I will think of saving when there is still enough remaining," he stated.
Kwame Oboade who works with Multimedia Ghana is of the view that individuals should refrain from being delusive enough to think that little drops of water make a mighty ocean.
He added that he eats GHc30 or GHc40 worth of fufu each day which makes it about GHc 280 a week and so calculating it to a total of a year, "Kwame Oboadie eats close to GHc 10,000 worth of fufu!