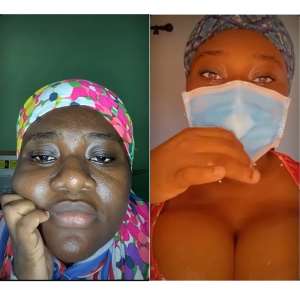 A now remorseful Snapchat prostitute who was popularly known as Chocolate Candy has confessed all her wrongdoings, including how she exchanged her baby spiritually for money.
In a video she shared on her page, the ex-Snapchat hookup girl disclosed that her baby was also the child of another hookup girl, Queen Farcadi's baby daddy, now Sister Derby's new boyfriend. According to her, David accepted responsibility for the child, however, he did not have to suffer the costs for long since the baby died just ten days after birth.
Chocolate Candy told the world about how she was a very wayward girl growing up and how her love for money got her into prostitution, and later into blood money, ignorant of the fact that it would cost her baby's life.
"David, I'm sorry about our child. I used her for blood money without my knowledge", she apologized.
Going into her juju story, she narrated, "As I was in the 'ashawo' business, I got pregnant for David and at the time, I was very money thirsty so I saw a mallam on TV and decided to pick his number. The mallam was at Nkoranza and I only had 700gh then but I used that to go see the mallam".
"I wanted money so the moment I got there, I had already exchanged my unborn child for the money. They had already killed the child in my womb before I gave birth. I didn't tell the mallam I was pregnant but he already knew so after I gave birth, my baby mysteriously died ten days later. They took my baby's life to give me the money I wanted", she further disclosed.
Chocolate advised the public never to go for blood money believing the lie that it will not require any human blood because per her experience, even if they ask for the blood of an animal, with time, they will indirectly take away a loved one.
Apparently, Chocolate Candy has now retired from the 'ashawo' business and she has now received Christ as her Lord and personal savior, hence, she is rendering apologies to everyone she has wronged and made this revelation to apologize to David for indirectly killing their child.
Nevertheless, with how she kept emphasizing that Farcardi's baby daddy was also her baby daddy, some people are convinced that she is only looking for fame, irrespective of how this confession of hers could affect Sister Derby.
---happyghana.com