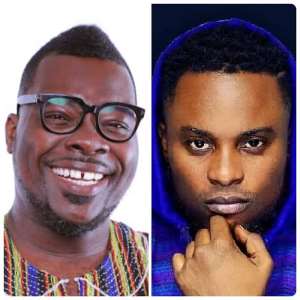 Award-winning Ghanaian broadcaster, Fifi Folson has labelled award-winning Afro gospel musician Joseph Matthew as a great gospel artist whom he would really want to meet .
Afro gospel in Ghana has finally gained prominence in the Ghanaian music scene. This type of Christian music expresses everything about the gospel of Christ like any other gospel song ,but it has got rap and pop culture added to it.
One artist who has taken Ghana by storm with his afro style of singing is Joseph Matthew. Ever since the UK-based Ghanaian afro gospel musician surfaced onto the Ghanaian gospel music scene in 2018, he has released five potential Grammy award-winning songs including: 'Hallelujah', 'Nyame Ye', 'My Story , Not Alone' and Currently 'The Name' .
While playing 'My Story' on his show on Krystocentric Online Radio, Fifi Folson who was overwhelmed by the musical prowess of Joseph Matthew said he would really like to meet him in person one day.
" Okay, Krysto centric .That's right.... you don't know nobody for all the things you do for me..lovely tune on the gospel drive online ..shoutouts to Joseph Matthew ....did i get his name right? hahaha i like his flow ,who is he and where is he from? ..I'm gonna meet him one day...I like his swag too".Folson said
The most exhilarating part of Fifi Folson's submission was how he made fun of Joseph Matthew's name. According to him, he is awed by how the award-winning Afro gospel musician has two English names.
In 2020, Fifi Folson moved to Joy Fm to become the host of the programmes Reason is Jesus, Worship Zone,Lunch time inspiration and Joy Time in His Presence
He was also the face and host of Footprint TV for 10 years and now the Host of Power of Worship on Joy Prime TV and currently working on his upcoming Tv Series known as Fifi Folson Gospel Diaries..
He runs a 24 hour Christian online radio station that shares sanctified content from Africa to the world at Kristocentric.com
Watch Fifi's submission in the video below
Source: hotfmghana.com